Sedona Wedding Video
Our Filmmakers:
Leslie McCandless
Leslie McCandless, one of the Sedona Wedding Video filmmakers, has lived in Sedona for more than 25 years after relocating from Los Angeles, California. She holds a Masters Degree in Psychology and worked as a marriage/family therapist until moving to red rock country, where she became inspired by the visual arts. When they built a film school in Sedona, she attended and began making documentaries. Her film, "In the Eye of the Beholder–the Diane De Vries Story," won awards and has been seen across the country on the film-festival circuit. These days, her time is divided between filming weddings and other local Sedona events, or traveling to exotic locations (to film non-local events!)
Joe Robinson
Joe has been a playing with cameras all his life. When he discovered video, the addition of movement and sound to still images created a new passion for him, and he now takes a video camera wherever he travels. As one of the Sedona Wedding Video filmmakers, he gets to be out in the Sedona red rocks he loves!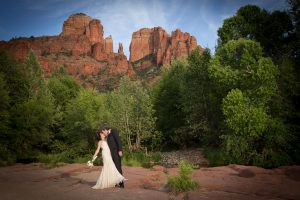 Testimonials:

Leslie:
Thank you, thank you, thank you! Our wedding video is exactly what we had hoped. Than you for helping us preserve our memories for a lifetime.
Shoba and Steve
Dear Leslie,
Oh my goodness!! You outdid yourself on my video!! It was amazing. I'm sorry I didn't call you, but I didn't want to bother you during Christmas, but I was out front and the mailman walked up to me and handed me my mail. It was Christmas Eve day. We watched it 3 times, then we took it to Tiffany's on Christmas day and watched it some more. It is so incredible that we can't take our eyes off of it and the music you put in there was so perfect too. It is soooooooo me!!
Thank you so much, Leslie and we hope to run into you in Sedona again. We can't wait to go back!!!
Terri
Hi Leslie,
I just wanted to say that we LOVED the video!!!!!!!!!!!!!! It was so nicely done!!! You truly do amazing work and we really appreciate all the time you spent on putting together our video.
Thank you also for sending us a couple of copies (with the photo on it)! Our parents loved that!
Thanks again,
Kimmi
Leslie
The DVD took our breath away. We intended to watch only five minutes last night since were exhausted and it was late. Of course, we watched spellbound through the entire presentation. We owe you a ton of gratitude for an exceptionally professional job. I thought the editing was superb. Our friends were included to the right degree. The shaman was wonderful. The audio was very clear. Three of the four couples who were present at the ceremony will attend the reception and will love it. I'm sure they will want their own copies. We will show the DVD at the reception on Saturday. Again, Leslie, a superb job. I would recommend you and Brad in a heartbeat. And we have this memory recorded for us to enjoy for the rest of our lives. Thank you.
John
Hi again Leslie
Just to let you know Deirdre and I watched the wedding video and were
completely satisfied. You have a tremendous talent at capturing the
magic of such an event… our families and
friends LOVED it so thanks again allowing us to share our ceremony
with them.
Best wishes,
J&D
Sedona Wedding Video
750 Dry Creek Rd. Sedona, AZ 86336
#(928) 300-8618